Class XI and XII classes
in the
Arts and Commerce streams
.
Established in 2019, the school is located in the mountain village of Umoid, about 14 kms from Mawkyrwat, the town where the district headquarters of the South West Khasi Hills is located.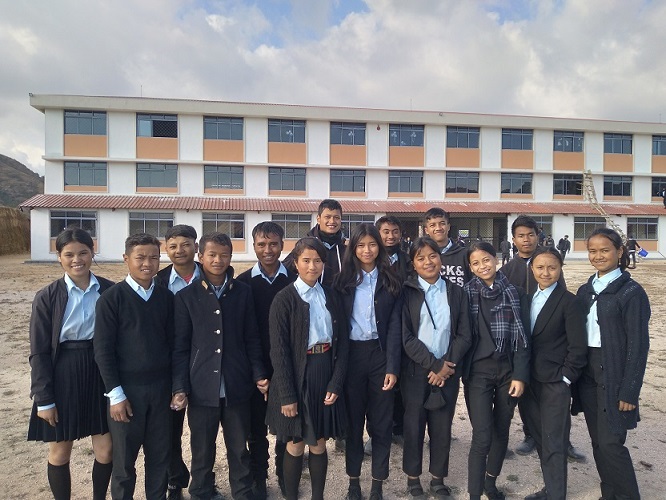 ---
A SCHOOL WITH A DIFFERENCE
---
St. Xavier's Higher Secondary Umoid aspires to be "
A School with a Difference
" — as its motto suggests.
Besides having a robust academic programme, which is an integral part of the school's Jesuit tradition, St. Xavier's Umoid offers students a variety of extra-curricular activities. The school has numerous clubs and encourages students to realize their potential and talents.
Faith and spirituality are also intrinsic elements of the school programme. The school day begins with a prayer and ends with the
Examen
— an Ignatian form of reflective prayer. On the first Friday of each month, the Holy Eucharist is celebrated at school.
St. Xavier's Umoid is committed to promoting the local Khasi culture. In fact, it was the first school in the state to adopt the
jainsem
, a local dress worn by Khasi women, as part of the school uniform.
The school is also committed to being "Green." The students actively engage in planting trees and protecting nature. In 2019, the school established a "Sacred Grove" on campus, celebrating an enduring Khasi tradition. In 2021, over 3,000 saplings were planted on the campus. The school strives to reduce wastage and forbids single-use plastics on campus.
The dignity of labor, a quality already celebrated by the Khasis, is promoted in the school. The school buildings are cleaned by the students, as also the school premises. Often, on Saturdays the students and staff come to school to beautify the school and its campus.
Though the school is new and still unfamiliar to many in the district and the state, it is earning a reputation for its strong academic programme, its good discipline, and the all-round formation it provides its students.
---
CLASS PHOTOGRAPHS 2022-23
---
---
---
---
---