8th February 2020
Much has happened in Umoid since my last newsletter to you in September 2019. For one, the academic year has almost come to an end and our students are presently busy answering their year-end Board exams.
On Wednesday, November 13th, Ms. Isawanda Laloo, IAS, the Deputy Commissioner of the South West Khasi Hills district, which is our district, visited our school. Wednesdays, as you would remember, are when our girl students come to school in their traditional dress – the jainsem. The DC said she came to our school "to see for herself," all the wonderful things she had heard about the school. She explained how several people had inquired about the school and she felt the need to see the school for herself. Unknown to us, our school had inadvertently become the "talk of town" when we introduced the jainsem as part of the school uniform. Pictures of our girls in their jaisems had gone viral on social media . . . .
---
20th September 2019
First Exams
At the time of writing this second newsletter, our students have just finished their first exams. Some of them, I imagine, would have done quite well. We enrolled a few students who were already high academic achievers. But I suspect a number would have fared poorly. I hope I am wrong, and in a few days the verdict will be out.
Many of our students had their early schooling in village schools where the teaching was often weak and usually done in the vernacular. They are the ones who, for no fault of their own, have been struggling the most. The results of these examinations will be an indicator of how well they have learned, but will also reveal the progress they have made in English, the medium of instruction at our school. . . . .
---
5th June 2019
Humble Beginnings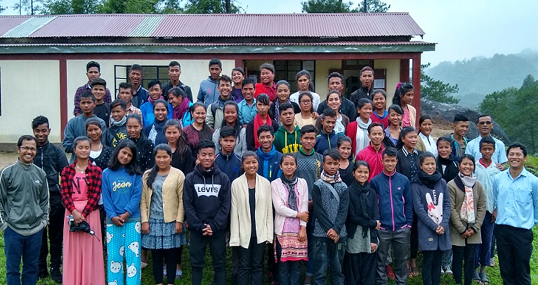 Today was our first day of school. All 55 students showed up, even though we had inadvertently decided to start school on a public holiday – the feast of Eid. We were not sure all our students would show up. But all 55 were there. We started the day with an Orientation programme. Sainborlang, who has joined our staff, and Scholastics James Vaipai and Matheus, brought the students together, conducted a variety of ice-breakers, taught them songs, and informed them some Ignatian traditions. The day ended with the Examen. . . . .